Gemini offensive line steps up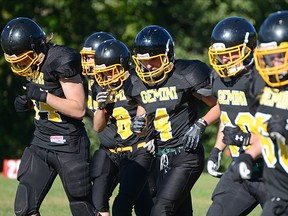 Article content
Glendale's list of 'senior' offensive lineman is short.
Evan Derouck. Liam Spencer.
"I haven't played with anybody else on the O-line before, I've only played with our centre, Liam," said Derouck, who joins this year's varsity football team (Grade 9-12) from last season's senior Gemini team.
"Everybody else is new, so it's going to take a bit of adjustment and getting used to everybody.
"And we haven't really been in many game situations so it took us a while to adjust," said Derouck after Wednesday's 42-14 win in the TVRA varsity season opener against Woodstock College Avenue at Tillsonburg. "It didn't take long… once we got comfortable."
The blocking, he said, will get better.
"It's our first game and we knew it wouldn't be pretty. We were expecting little flaws. So we still have a lot more work to do, a lot more plays to work on. The longer the season, the better we'll get. It's just a matter of time. We have to come together like a family."
Helping to lead the way for the offensive line is Griffin Billard.
"We've got a good captain on the line, too, Griffin's a great leader," said Derouck.
"It gives us lots of confidence, too. If we don't do so hot one play, we're right back up there again. We've got to focus on our next blocks. You can never put your head down."
College Ave. was a virtual unknown for the Gemini going into Wednesday's varsity debut. Derouck would have played them in junior football… but that was 'ages' ago.
"I heard their team was small to begin with, but I don't really listen to what other people say. You've got to get into your own zone, you have to do what 'you' have to do.
"The only thing that really caught us off guard today was they were running the wedge just like East Elgin," noted Derouck, who also played some defensive tackle Wednesday. "We had to make some adjustments on defence, too. We knew how to shut them down, but it was a bit 'rusty' at the beginning. That's how they got their points – we hadn't adjusted yet."
We apologize, but this video has failed to load.
Gemini offensive line steps up
Back to video