Junior Gemini come back to sweep WCI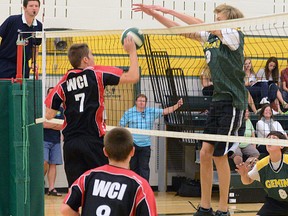 Article content
At 6'2" middle hitter Jack Demaree adds some height to the Tillsonburg Glendale HS Gemini junior boys volleyball team.
So does Caleb Vermeeren at 6'4".
Two tall Grade 9s, along with Grade 10s like Josh Verschueren and Wes Hopper, make for a taller-than-average Gemini junior squad.
"It helps with blocking and stuff," said Demaree, who's height and vertical leap also benefit his basketball game.
"We're both middle," said Hopper, who shares the middle role with Demaree. "One's in the front, one in the back, so we alternate. Middle's more for blocking and the two powers for hitting."
While Demaree is more a hybrid hitter/blocker, Hopper fits the prototypical middle role, not being a hitting specialist.
"No, not really," he smiled. "I do hit, if it sets to me, but… middle's more blocking."
"It is a beautiful storm with all these kids coming together," said Glendale coach Brent Hosler, impressed with the junior team's potential.
"The kids have made really good improvements," said Glendale coach Andrea Clarke. "We've still got a long way to go, but they dug deep and worked hard, despite how far down they were in both the first two sets. They showed persistence and that was pretty much all I could ask from them."
The Gemini defeated Woodstock Collegiate Institute 3-0 Thursday at Glendale, following up a TVRA South East season-opener 3-1 win in Dorchester Tuesday.
"Two in a row," noted Demaree after Glendale topped WCI 25-22, 26-24, 25-23.
"I think we started off pretty cold, but we had some good comebacks," said Hopper. "We got into the game, but it took a while to get started."
"It was a very slow start," agreed Clarke. "It seems to be our thing so far – slow starts. But it's kind of 'what you do after you start slow,' and they showed that they wanted it enough. They worked hard to come back."
While Glendale's starting lineup is 'relatively' tall, said Clarke, height was not used to select starters.
"Overall work ethic and skill," she said, "and movement on the court. That really determines it rather than height. That's what determines it for us. We just happen to have the height."
We apologize, but this video has failed to load.
Junior Gemini come back to sweep WCI
Back to video