Gemini develop new offensive weapon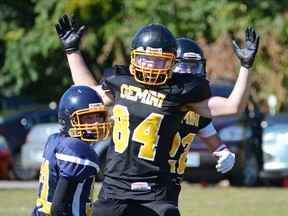 Article content
Gemini tight end Patrick Tanner racked up the fantasy football points Wednesday afternoon in Glendale High School's football season opener against Woodstock College Avenue.
Or rather… he would have if there was such a thing in the TVRA varsity football league.
Three catches, three first downs, 100 yards in total (25, 35, and 40 yards), his last and longest reception of the day taking the Gemini down to the CASS two-yard-line, setting up a touchdown lunge.
He also put up yards on the ground, running for a 12-yard first down.
And he had no penalties, significant in the fact that the Gemini were frequently penalized.
"My main objectives are to catch, and block," said Tanner. "I'm on the line with the offence, but at the same time I'm an eligible receiver."
Coming off a season of offensive guard and defensive end, he was introduced to the tight end position for the last 'couple of games.'
"One catch – I got 10 yards last year, that's it," he grinned.
Fantasy league players take note. Combined with Wednesday's 3-3 stats, that would make him 4-4 lifetime as a receiver.
"This was pretty cool. I didn't drop the ball today and I don't think I had a completion under 20 yards. Hopefully I get it thrown to me more, it was fun."
As an offensive guard last year, his priority was bulking up. This summer, going to the gym, he focused on slimming down. While not quite Kyle Sinden fast or agile – yet – he did show deceptive speed Wednesday.
"It really helped me out," Tanner nodded. "My speed has definitely increased.
"I was told pretty much, last year, by coach (Sean) Van Beers that he wanted me to play tight end. But I was actually training this summer for hockey."
From Day 1 in football 'training camp' he started catching, and in a couple short weeks, he showed speed, poise, confidence… and amazing glue-like hands.
"And I think maybe a little bit of luck," he admitted. "I don't know, everything just clicked today. Everything worked.
"That first throw was right in my hands," he said, crediting Gemini quarterback Colton Lanthier with a rock-solid game.
"Colton had a great game – he threw me great passes. He was almost like perfect. And the O-line – the O-line was really good today!"
A Junior C goalie in Woodstock this year, his hand-eye coordination seems to lend itself to catching footballs.
"I'd say I have pretty good hand-eye coordination. Footwork, too. Footwork is huge for linemen. I feel like my hands and footwork have really been developing since the start of the year."
With the extra confidence, Tanner feels like he's 'in play' every series, every down.
"Every time. I'm definitely at the point where I want the ball."
We apologize, but this video has failed to load.
Gemini develop new offensive weapon
Back to video