Black Marauders football - From the Archives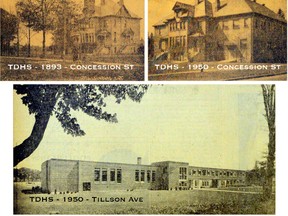 Article content
When they built the new Tillsonburg District High School on Tillson Avenue in 1950, they called it big, beautiful and ultra-modern.
A rambling two-story brick building on a 14-acre 'campus' surrounded by perfectly tailored lawns and shrubbery.
It's 19 classrooms would easily accommodate the 520 students expected to enroll in 50-51, and then some. Classrooms, teachers' rooms, cafeteria, executive offices, huge 'gymnatorium'… TDHS had it all.
What they didn't have yet in1950 was a functional football field. The TDHS Trojans continued to play London and District WOSSA A Conference home games at Memorial Park (inside the race track).
Players on the Trojans 'Black and Gold' senior team included George Guylveszi, described as a guy with a lot of weight on his frame and a lot of go in his feet, small but speedy Chuck Baldwin, Hustling Jimmy Jones, Larry Jackson, Mike Hoser… and a young Irv Horton, who was listed as an 'alternate' in 1950.
By 1951, Horton, a talented multi-sport athlete, was coming off a record-setting junior track-and-field season in high jump, in addition to his fall football, which was followed immediately by basketball in mid-October. Changing his style from scissors (junior) to Western Roll, he was expected to set intermediate high jump records.
Both the football and track and field programs moved to the Tillson Ave. TDHS school for the first time in '51. And with the newly installed track and football field came a new school nickname, Black Marauders, A cheerleading squad was created, adding to the game-day experience, and the school band played.
Playing 'flying wingback' on the senior Marauders, Horton scored the only touchdown in a pre-season 6-0 exhibition win over Ridley College, and the wide receiver was off to a great season.
By 1952, Horton, still active in his three fall/winter sports, started playing quarterback, filling in as a centre during an injury-filled football season.
Fast and rugged described the Marauders' 1953 football team, Horton's final year at TDHS. Coach Reid Murray was optimistic about his senior Marauders with six veterans left over from '52, including QB Horton, Charlie Rigole, Eddie Gibson in the backfield, Bob Galloway, Irwin Robbins (often referred to as Robinson), and Fred Hill on the line. Four notables joined from the juniors – Bob Tyrell, Hal Holbrook, Bob Darley and Charlie Thomas.
Arnold Stover, who had played two years earlier as a junior, was new to the senior team, along with Art Hunter, who had football experience in Quebec, and Bill Burn.
Also on the team were Bob Nagy, centre and linebacker, Al Jackson, and Jim Leach.
Not overly deep, but the best since it went to WOSSA B finals, better results were expected in 1953.
At practice, Horton's passing to the ends filled the sky, the emphasis on timing and accuracy more than speed.
Horton was elected senior football captain, and Gibson the assistant captain.
It was believed Coach Murray was building a team around the strong, accurate throwing arm of Horton, but with fast runners like Hunter Darley and Bob Genereux (sometimes spelled Jeneroux), the attack was expected to be just as potent on the ground as in the air.
Arn Stover was making some fine tackles and showed plenty of promise.
Horton kicked the winning point in a 2-1 pre-season exhibition against Arthur Voaden Vocational School, booting a 35-yard single in the last second of the game.
TDHS defeated Simcoe 6-0 in the opener with Rev. Father J.H. O'Neil performing the ceremonial kickoff.
After beating Stratford 11-0 on the 'whipped' arm of Horton, they lost to Tri-County Conference powerhouse Woodstock Red Devils, despite the play of 'heady' little backfielder Stover and steady Ian Alderworth.
Horton found more than adequate opportunity to crack open Stratford's secondary in the rematch with snappy on-target heaves, completing 7-11 passes including a 25-yard strike to Bill Burn, who ran another 35 yards for a TD. Penalties were costly, two TDHS touchdowns were called back, but the Marauders won 11-5.
Horton at quarterback spearheaded the Black Marauders continually, throwing yards, gaining yards and running. Arn Stover and Al Turner plunged very well and were constant threats.
The rematch against Woodstock did not go so well, losing 20-5. The juniors, however, had more success that day winning their first game in three seasons, 3-2.
Four hundred students watched TDHS beat Simcoe 21-5, with Horton intercepting a pass to score the winning touchdown.
That set up a must-win game between the league's two top teams, Tillsonburg and Woodstock, tied 4-1. Playing in drizzle, light snow and sleet early in November 1953, Woodstock blanked the Marauders 14-0 to finish on top of the Tri-County league. Tillsonburg, with a 4-2 record, settled for second, both losses coming against Woodstock.
We apologize, but this video has failed to load.
Black Marauders football - From the Archives
Back to video