McKnight horse takes $683,000 Metro Pace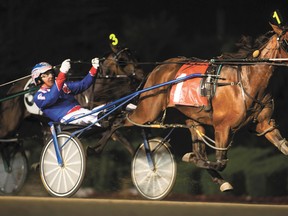 Article content
On a warm, sunny Friday afternoon there's work to be had in rural Ontario for two hardworking men, as they use long-handled paint rollers to slap a new coat of grey on the side of Ballykeel Racing's barn, just a few miles north of Tillsonburg, ON.
The scene is the live-action embodiment of Ballykeel owner-breeder Cam McKnight putting preach into practice.
A year ago, McKnight could be found taking the podium at several industry rallies in Ontario, speaking of such a scene and trying to paint a picture for imperceptive politicians as to what kind of money it takes to keep a small Ontario breeding operation afloat and how much funnels down to others, inside the industry and out, when races are won and money changes hands.
While some others told emotional stories of personal hardship owing to the Liberal government's decision to end the Slots at Racetrack Program, McKnight spoke with eloquent precision of the vast economic trickle down that comes from a thriving Ontario racing industry.
He specifically broke down what happens when a horse he owns is lucky enough to win a race with a decent purse, say $50,000. One of the first things he used by way of example was, 'Well, I hire a couple of local guys to come out and paint the farm or put some new stone dust on my track'.
And so, true to his word, McKnight's farm was getting a little touch-up just a few days after his homebred, Ontario-sired Boomboom Ballykeel (Mach Three—Teig N Riley), scored one for the walking-wounded of the Ontario breeding industry and won the $683,000 Metro Pace — the biggest race in the world for two-year-olds.
The race was won his colt, a 10-1 shot, careened by pre-race favourite Western Vintage off a three-hole trip to win in a career-best 1:50.4.
Boomboom Ballykeel was driven to victory by Sylvain Filion, Canada's reigning driver of the year, for trainer Richard Moreau, who savoured his biggest win in more than 4,000 career victories. The trainer, who currently leads the nation in both wins (200 and counting) and money (close to $3 million) in 2013, races a 50-horse stable across Ontario.
Western Vintage (Yannick Gingras) finished second, with also-eligible draw-in longshot Some Major Beach (Doug McNair) coming on strong for third place, despite a mid-stretch bump with Lets Drink On It (Jim Morrill, Jr.).
The dust-up led to a 12-minute inquiry to determine whether Filion's winning move to free Boomboom Ballykeel from the rail contributed to the subsequent interference on Some Major Beach. After what seemed like an eternity to the winning connections, Filion and McKnight resumed their happy celebrations in the winner's circle alongside a large group of supporters.
"That was very, very stressful. It was tight quarters down the stretch, and I was pretty confident that I was well within my rights, but any time there's an inquiry like this, going for that kind of money, it's very stressful," said Filion, who had never had much luck in the Metro on previous occasions.
"It's a hard race to win because, from week to week, these two-year-olds can really change. You think you have the right one sometimes, but it's hard to tell from only a handful of starts."
Ironically, in a story that McKnight happily told in the winner's circle, Filion originally picked another horse over Boomboom Ballykeel to drive in an early qualifier prompting Mcknight to take his horse on the track himself.
"I went flying by Sylvain in the stretch and he said, 'whoa, whoa, whoa, that horse is very fast,'" said McKnight, with a laugh.
Grateful for another crack at Boomboom since that first day, Filion couldn't be happier how the year has unfolded for the horse and, especially, McKnight.
"This guy's been in the horse business for the longest time. He's always had homebreds and to finally get a nice one like him, it's just unbelievable," said Filion.
"I'm so happy for him and I just wish all the guys who have been in the business for so long could get a horse like that."
In the aftermath of the big win, McKnight was both ecstatic with the thrilling and unexpected victory, yet quick to spare a thought for his peers in the struggling Ontario breeding community.
"I'm the rare, rare, rare exception with a night like this. You can't breed an Ontario bred and end up where I am right now unless every little thing goes perfectly," he said.
"I'm very lucky and I'm very thankful for that, but I feel badly for so many other breeders and trainers in Ontario because it's just a joke right now.
"We've seen 10,000 jobs go out the door in the past year and I'd suggest that if (premier) Kathleen Wynne let 10 automotive plants close down, there'd be hell to pay.
"Again, I've been blessed to be able to pull this one off but there's probably 3,000 or 4,000 other people, breeders like me, who haven't been so lucky. It's just a fine, thin edge whether you get here or there."
For many years now, McKnight's farm has been a gathering spot for about 30 people who come out on a regular basis just to have a coffee or a beer and shoot the breeze about the horses.
Every year since high school, McKnight and his friends, including Randy Hallows who helps out daily at the farm, have made a pilgrimage to the Jug for a week of golfing and racing. Next week, they'll make that trek to Ohio again, with quite the spring in their step this time around.
For this week, McKnight says he bought a little more beer than usual to accommodate a few extra well-wishers who happened by the farm.
"It was heartwarming, all the congratulations. I mean, I'm just a little guy. I bred and raised these horses right here on a small farm. We had two or three broodmares and do it all from getting them down ready and then turning them over," he said.
"These other people are enjoying it every bit as much as I am."
Today, there's 17 head in McKnight's balanced operation — four broodmares, three weanlings, four yearlings, two two-year-olds, a three-year-old, two four-year-olds and a five-year-old for good measure.
There's a rich history to the family's back story in racing, an affiliation that began with Cam's father, J.C.R. or 'Chuck' McKnight, who owned the local newspaper, The Tillsonburg News, which at the time also included The Canadian Sportsman under its banner.
In charge of writing up the occasional horse story for his publications, Chuck became interested in the sport. Although he would eventually sell the Sportsman to Cliff 'Chappy' Chapman, who, at the time, was also the only legalized bookmaker in Canada, Chuck would assist Chapman in taking bets at the popular local fairs in the area.
When Chapman's schedule got hectic, Chuck would take his own crew to fairs in Markham, New Hamburg and such, where Cam, as a teenager, would help his father work the cash and write tickets.
The family's first horse, Pick Dylan, raced the Buffalo/Batavia circuit with Ed Arthurs in charge. When the horse eventually broke down, Cam talked his father into letting him take the horse into town to the Tillsonburg Fairgrounds to play around with him. Under the teenager's tutelage, Pick Dylan made it briefly back to the races. Cam was hooked.
As a young man, he'd drive quite a few of his own, but couldn't make enough money to support it as a full-time endeavour and eventually went into the family's newspaper business.
Upon his retirement in the late 1970s, Chuck wanted to have a broodmare or two and built the Ballykeel barn on nine acres not far from Tillsonburg.
When Chuck passed away in the mid-90s, Cam, who was in the middle of his three terms as mayor of Tillsonburg (1991-2000), kept the small operation going. He'd breed his mares, then raise and train the offspring on the property's small jogging track. When the horses were ready for more, they would make the short trip to the Tillsonburg Fairgrounds for more vigorous training.
And, to this day, in the wintertime he'll train them right on the area's county roads.
"It sounds bizarre, but in the winter the roads along here are kept so good because there are a lot of Mennonite horses out here," he said.
"I have a mile marked out on the side of the road and we train on the road. We train a mile and it's a straightaway, too, and it works well because the young ones aren't going around corners or anything."
That's exactly how Boomboom Ballykeel got his start, too, and has now proved he can handle the Mohawk straightaway just as seamlessly as the snowy back roads of Oxford county.
Aside from impressing both Filion and Cam in his qualifier, the colt showed tremendous resolve in his first start. Due to sickness, he hadn't been able to train as much as Moreau would have liked heading into the race, an Ontario Sires Stakes Gold event, but Cam encouraged his trainer to give him a shot anyway and Boomboom Ballykeel overcame road trouble and came home seven-wide to be beaten just a length.
"He's very fast and his brother, Mach Of Ballykeel, was fast, too. He was a very nice horse and had a tonne of heart and he'd race forever, but he was always small," said Cam.
"This guy has got some more size to him and he seems to have instant speed."
He also, Cam says, lives up to the 'boom' in his name as a real feel-good horse that always kicked up a storm in his stall.
"His whole family is like that, active in the paddock but gentlemanly at the racetrack," said Cam, who has two full brothers to the Metro champion — now five-year-old Mach Of Ballykeel ($332,252) and yearling Big Bang Ballykeel.
Sadly, Cam's now seen the last of broodmare Teig N Riley's impressive offspring. The 11-year-old mare had to be euthanized earlier this year due to chronic laminitis.
Despite the emotion that still catches him when he reflects on losing her, Cam also uses that situation as another lesson in small breeder economics.
He went out a purchased another broodmare this year to fill the hole left by her passing, but he did so only after Boomboom Ballykeel had shown enough promise on the racetrack to warrant such an expediture in these uncertain times.
"After he finished second in the Nassagaweya (on Aug. 17), I thought he was a pretty nice pacer. I figured he might not ring the big bell for me, but he'd make some money and I thought maybe I'd take a shot. Without that, buying that broodmare wouldn't have happened."
Just like painting the barn or improving the jogging track wouldn't have happened, either.
"It's what I've talked about so much in the past — it causes dollars to flow. When you don't have money to spend, you don't spend it and that has an impact on the greater economy. Nobody seems to understand that."
Despite the ongoing uncertainty in the industry, McKnight says he's 'like an ostrich' and decided against downsizing his operation, hoping that reality will finally hit the provincial politicians in time to save Ontario racing.
"I've stayed the course so far, but if I didn't pull off a win like this, I probably couldn't stay the course much longer, honestly.
"It's surreal to win a race like that, but it's not life changing by any means. It's not going to alter my life, but it will allow us to keep what we have going for now," he said.
"And I feel lucky and blessed to have that, when many others do not."
(Article reprinted courtesy of The Canadian Sportsman magazine)
We apologize, but this video has failed to load.
McKnight horse takes $683,000 Metro Pace
Back to video