Veteran approach to choosing best words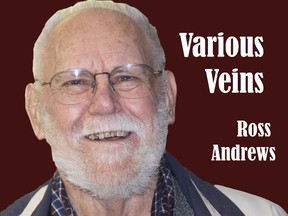 Article content
Journalists, much like most people, fall into a habit of using words and phrases that sometimes simply mislead people, sometimes destroy reputations.
An example appears in last Saturday's London Free Press. Conrad Black "never showed up ... at an Ontario Securities Commission hearing Friday."
"Never showed up," suggests Lord Black should have made an appearance.
Given that the members of the commission consider Lord Black to have been guilty of charges that were dismissed by courts, why would he put himself through a humiliating session?
This presumption of wrongdoing is headlined, "Disgraced media baron a no-show." The writer of the headline, just like the reporter, maligns Lord Black.
How many times have we heard that someone "was in the wrong place at the wrong time?"
This toss-off puts the blame on the one who was injured or killed. It ranges from children in school, someone entering or leaving a store into the path of a bullet, someone buried in a landslide.
Where should children be during school hours? If they were truants playing games in an arcade or gone fishing they would be in the wrong place at the wrong time.
Recently the officer who shot and killed a young man on a streetcar in Toronto was described as a "six-year-veteran."
Just what does the word veteran mean? The dictionary of word origins traces back through French to Latin where it simply means old. Looking deeper into antiquity it may be from the Biblical "full of years." Six is old? Six is full of years?
My Funk & Wagnalls defines veteran as "one who is much experienced in any service, especially military service." A second definition: "a former member of the armed forces."
Veteran is used in the Toronto story as an adjective. Funk & Wagnalls gives the usage to mean "having had long experience or practice; old in service."
There's that word old, again.
Aside from being pure nonsense, describing a person of six years experience as a veteran plants a sense of distrust for police officers of all ages in the public mind. This is the sort of attitude that led to public demonstrations in the streets of Toronto.
How can I describe this occurrence? Most words at my disposal cannot describe what happened, but the question why has to be answered. Was this officer a sort of personality that slipped through the selection process, who should never have been trusted with arms? Was he motivated by fear or by a sort of Dirty Harry mentality? Is it evidence of lack of proper training for the job?
Whatever the findings of three probes, rampaging through the streets is not the way to better policing. This is apt only to push legislators into hasty actions for political reasons, and alienate officers who have done their best to keep Toronto safe.
Use of the wrong adjective in itself didn't cause the citizens to erupt in anger, but it may have subtly increased the mood.
As I said above, a word can destroy reputations. "One officer with six years of service," would have placed the shooter accurately without smearing every member of the force.
We apologize, but this video has failed to load.
Veteran approach to choosing best words
Back to video