Minister's award for small 'business'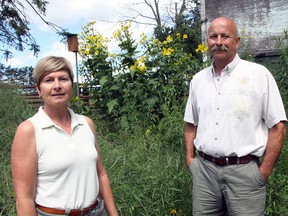 Article content
Bryan and Cathy Gilvesy and family are naturally thrilled to accept one of six 2012 Minister's Awards For Environmental Excellence from Ontario's Jim Bradley.
But the fact it's in the 'Small Business', rather than say, 'Non-Profit' category, is fitting icing on the cake.
"The farmer has to make money," said Bryan Gilvesy Saturday afternoon at Y U Ranch, along Plowman's Line just outside of Tillsonburg. "First and foremost, you have to be profitable.
"It's recognizing it's a business and we are operating within the environment. It's proves you can operate a business and improve the environment at the same time."
Y U Ranch was in good company, with the six award winners including York University and The Toronto Zoo, focusing on the 2012 (and 2013) theme of prioritizing environmental protection of the Great Lakes.
"Today we celebrate just a few of the most outstanding efforts of individuals, groups, and companies in protecting the environment. I hope the
examples we see today will inspire others to be innovators in protecting the environment," said Bradley, via press release in an announcement made Tuesday, July 30.
Y U Ranch is a LFP (local food production) certified operation featuring Texas Longhorns fed on grasses including restored native prairie tallgrass. Loaded with flowers, native tallgrass is both healthy for the soil and edible for the cattle on the range or as hay and provides nectaring opportunities for bees. The Gilvesys are also pioneers in 'pollinator hedgerows' composed of trees and shrubs that flower, environmentally-productive alternatives to what has become the standard model.
Gilvesy credits the ALUS (Alternate Land Use Services) program as one which stimulated their development down their current path.
"We have just figured out how to make it work and fit the cattle in."
In particular, Gilvesy gave a 'shout out' to Dave Reid, formerly MNR stewardship coordinator whose environmental vision included the reintroduction of the Eastern Wild Turkey to Ontario, and who is currently transfer facilitator with ALUS.
"He has been a significant person in educating us about the environment and how we can fit in it."
Gilvesy surmises the minister's award recognizes first and foremost, Y U Ranch's buffering of a tributary of the Little Otter which ultimately connects to Lake Erie; the restoration of native prairie tallgrass and its associated ecosystem; and their work for pollinators.
More than anything, the Gilvesy family is accepting the award as a form of validation they are on the right track, balancing a broad-based definition of sustainable agriculture with environmental responsibility.
"But the best validation we can get is from our customers."
And at the end of the day, rather than winning awards, keeping on keeping on is what Y U Ranch remains about.
"We're just trying to make a living out here," Gilvesy concluded. "Establish our brand and make a living for our family."
We apologize, but this video has failed to load.
Minister's award for small 'business'
Back to video