'Murder book'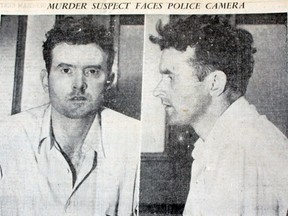 Article content
A bloody bank robbery in Langton 63 years ago has been ranked as one of the most notorious crimes in Canadian history.
In Wrong Side of the Law: True Stories of Crime, Guelph author Edward Butts devotes an entire chapter to Joseph McAuliffe and the Windsor man's failed attempt to rob the Imperial Bank of Canada in Langton on June 21, 1950.
During a car chase after the stick-up, McAuliffe, 32, unloaded a machine gun on two Langton-area men. Arthur Lierman, 31, and William Goddyn, 24, died instantly.
McAuliffe's Meteor was disabled in the pursuit. He tried to escape through a heavily-wooded area northwest of Frogmore but was captured at gunpoint three days later.
McAuliffe is one of 20 criminals featured in the 224-page book, which was published last week by The Dundurn Press.
Butts has written several books on crime. During his travels, he has been surprised that many spectacular crimes in Canada's past have been ignored while the familiar stories about the Boyd gang, Red Ryan and Bill Miner are told over and over again. Wrong Side of the Law seeks to rectify this oversight.
"First, there had to be a good story there," Butts said this week. "I also tried to make sure that I included stories that represent all parts of the country and span the time from our colonial past through the 20th century. And there has to be tragedy. There's a tragic aspect to these stories."
Butts goes into great detail about the McAuliffe affair, beginning with the moment he entered the bank through to his botched hanging five months later at the Norfolk County courthouse in Simcoe – the present day Governor Simcoe Square.
Butts provides useful research along the way, including an explanation of McAuliffe's motives. Turns out the World War II vet was a machinist and counterfeiter of 50-cent pieces. He needed cash to upgrade his operation and came to Langton to get it.
The McAuliffe chapter is also revealing of prevailing attitudes and how differently people reacted to crime back then. Police today routinely warn the public to give violent criminals a wide berth. But in 1950, Lierman and Goddyn – armed only with a .22 rifle – thought nothing of hopping into a Plymouth and chasing the heavily-armed McAuliffe into the wilds of Houghton Township.
Despite the fact that Lierman and Goddyn were riddled with bullets and left behind widows and children, there was a surprising backlash in Simcoe to McAuliffe's sentence.
"Nobody in Simcoe doubted that McAuliffe was guilty of murder, but the idea of a hanging taking place in their community didn't sit well with many of the residents," Butts writes. "Some were opposed to capital punishment and called it a `barbaric hand-me-down from the stone age.' Hundreds of them signed a petition – in vain – to have the death sentence commuted to life imprisonment. Others felt that `a central place of execution should be established where local people are not forced to participate in the affairs.' Two hours before the execution, the municipal council made a request – which was granted – that the custom of having church bells toll to announce the carrying out of the death sentence not be observed."
People who remember say the gallows in the Simcoe jail was located over the main reception area of what is today the Simcoe branch of the Norfolk Public Library. According to Butts, "It wasn't a `clean' hanging. The executioner botched the job, and McAuliffe slowly strangled for 17 minutes before he was pronounced dead."
Wrong Side of the Law is in bookstores. It is also available through Dundurn.com.
We apologize, but this video has failed to load.
'Murder book'
Back to video