Official sendoff for Buehlow planned in Niagara-on-the-Lake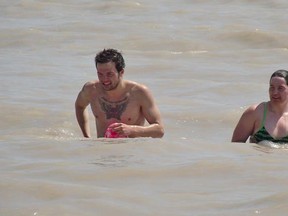 Article content
The public is invited to join in the official send-off for 18-year-old Special Olympic swimmer Alex Buehlow of Bright, Ont., who will attempt to swim across Lake Ontario on August 12 for Waves of Hope in support of THREE TO BE.
The send-off will be held Sunday, August 11 from 7-8 p.m. at Queen's Royal Park (at the gazebo) in Niagara-on-the-Lake.
If successful, Buehlow, who has autism, will be the youngest male to accomplish the feat, hoping to also beat the current record of 13 hours and 49 minutes.
Buehlow will begin his swim from Niagara-on-the-Lake on Monday, August 12 at 4 a.m., where he will be joined by boating crews of 15 which include his coach, paramedics and supporters. He will finish his swim at Marilyn Bell Park in Toronto the same day and is expected to arrive sometime between 5-9 p.m.
Buehlow started swimming with the New Hamburg Wilmot Aquatic Aces at seven years old, and started training with his current coach, Tillsonburg's Joni Maerten-Sanders two years later. He attended a camp in Northern Ontario called Camp Chikopi, where he learned to love open water swimming. His talent for swimming was soon evident.
In 2008, he became a member of the Western Region Ontario Games team and went on to be a member of Team Ontario for the Canada Games in 2009, where he won five medals. As a member of the 2010 Team Canada Special Olympics Worlds in Athens, Greece, he won a gold and two silver medals.
Buehlow hopes to raise $100,000 for THREE TO BE which envisions infinite possibilities for children with neurological disorders. To donate, visit www.threetobe.org/wavesofhope and show your support on Facebook at www.facebook.com/WavesOfHopeLakeOntarioCrossing.
We apologize, but this video has failed to load.
Official sendoff for Buehlow planned in Niagara-on-the-Lake
Back to video