Geographical, artistic life journey at SAC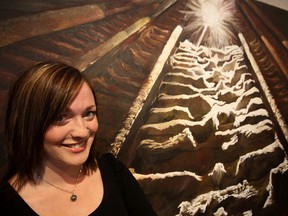 Article content
Illumination is an artistically-driven geographical journey through Tabitha Smith-Develter's life.
"Pretty much, it's a lifespan in there," smiled the 23-year-old Tillsonburg native inside the Station Arts Centre's changing gallery.
The SAC represents both an alpha and the temporary omega to the journey, given its early inspirational impact on her fledgling career, allowing lifelong artistic interest to bloom during a co-op term while at Glendale.
"That influenced me in what I wanted to do," Smith-Develter said. "I was always into pottery, painting and drawing, this gave me an introduction into how the business works."
She earned a three-year Advanced Diploma of Fine Art from Fanshawe College in 2011, broadening her artistic horizons further with a Bachelor of Fine Art Degree with a specialty in painting from NSCAD University in Halifax, Nova Scotia.
Her return to Tillsonburg has included the opportunity for a solo show, which opened Friday (July 19) evening at the SAC.
"It's a great opportunity," said Develter-Smith. "They have been very supportive of a young artist."
Viewers will be struck by her work's physical size and, as the show's title suggests, omnipresent study of light and its many shades.
Her preference for larger work developed from her early days, working on small canvas.
"It just didn't capture, I guess the illumination, which is what I go for in my painting. I feel the viewer can be more part of it, when they are larger."
To illustrate her primary theme, Develter-Smith employs dramatic and dynamic brush strokes and a layering technique originating in the Renaissance called chiaroscuro, emphasizing strong contrasts between light and dark without the use of black.
"It's just different colours laid on top of each other. It captures a lot of the vibrancy of colours. I focus on the brush strokes and try and capture the emotion of where I am."
The approximately 20 pieces featured in the show can be pieced together to form a chronological timeline of her career. Smith-Develter's abstract representations are based on actual physical locations, sketched and photographed. Her home town figures prominently in a mix including, for example, ice floes in the Thames River outside Dorchester, and scenic maritime vistas generated during two years of broadening her travel, artistic and life experiences.
"There is some beautiful scenery in Nova Scotia – lots of opportunity for landscape kind of painting."
Tillsonburg's Black Bridge occupies a prominent place in Illumination. One piece is based on a spotlight playing on the water underneath, another a frozen wintry scene atop its span.
"When I was coming up with artistic inspiration, that was one of the places I wanted to revisit."
Illumination will run through to August 21. Beyond that, Smith-Develter's broader goals include attaining her masters "hopefully, in another year," while continuing to teach classes at the SAC and intern with the Forest City Gallery, in London.
"I'm hoping to get my foot in the door in a gallery," she concluded.
We apologize, but this video has failed to load.
Geographical, artistic life journey at SAC
Back to video