Green Energy Investment Agreement amended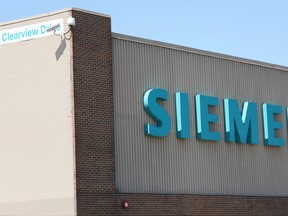 Article content
The Ontario government is updating the province's Green Energy Investment Agreement (GEIA) with the Korean Consortium, which includes Samsung C&T Corporation.
"One of our top priorities in these discussions was to protect the job commitments made in the original agreement," said Bob Chiarelli, Minister of Energy, in a media release Thursday.
The contract now commits Samsung and its partners to invest $5 billion in Ontario, and to develop a total of 1,369 megawatts of renewable energy over three phases by 2016.
"We are pleased to continue our positive working relationship with the government and, in particular, with the Minister of Energy," said Ki-Jung Kim, executive vice president of Samsung C&T in a media release. "Together with the government, we are protecting our environment and bringing renewable energy jobs to the people of Ontario through our newly amended agreement. As has been the case since the start of our projects, we will continue to work within the regulatory process in partnership with the government."
"There's no question that our partnership with Samsung has helped create a thriving clean energy industry in Ontario," said Chiarelli. "With this updated agreement, we'll continue to create good jobs, while maintaining Ontario's commitment to clean, renewable energy."
The 2010 GEIA led to significant investments in Ontario, including three new renewable energy manufacturing facilities. Six wind and solar projects are also underway, adding enough electricity each year to power approximately 260,000 homes.
Under the previous GEIA, Samsung and its partners had pledged to invest $7 billion in the development of 2,500 MW over five phases by 2016.
The revised agreement will increase local control over renewable energy projects, create jobs and protect ratepayers by:
• Extending job commitments form 2015 to 2016. In addition, Samsung will build a fourth manufacturing facility in London by the end of 2013, which is expected to create up to 200 additional manufacturing, and research and development jobs.
• Reducing the total commitment for renewable energy projects from 2,500 megawatts to 1,369 MW. This represents an estimated $3.7 billion reduction in contract cost, or about $24 per year for the average residential consumer. As part of Ontario's review of the Long-Term Energy Plan, the province will consider how to best use those savings with a focus on conservation, keeping costs down for ratepayers, and a continued commitment to renewable energy.
• Increasing local engagement for all future renewable energy projects under the revised agreement. The Korean Consortium will be required to obtain municipal council support resolutions for new renewable energy projects.
"Changing economic conditions in the province and our vital work to engage our communities have impacted our original timelines," said Ki-Jun Kim.
Samsung remains fully committed to its projects currently underway, to creating all planned high-skilled local jobs at its manufacturing and construction partners, and to fulfilling its contractual obligations. Samsung is moving ahead on its Phase 1 projects in Chatham-Kent and Haldimand County, and its Phase 2 projects in Huron-Bruce and Kingston and Loyalist Township.
The 300 local manufacturing jobs at Siemens in Tillsonburg remain a vital part of this project. In addition, Samsung will support Siemens' efforts to develop export markets for its wind blades beyond this project. Samsung will provide this support to each of its manufacturing partners throughout the province.
"As a globally responsible company, Samsung believes strongly in the importance and potential for renewable energy in Ontario and around the world," said Ki-Jung Kim.
"Beyond the environmental and health benefits, the renewable energy sector is creating needed jobs in the province. Hundreds of local Ontario workers have already begun making Samsung's renewable energy projects a reality and there are many more jobs planned for the future.
"We also believe that being part of an engaged, supportive community is critical for our success. That's why we have established benefit funds worth tens of millions of dollars that address health, education, environmental and aboriginal needs identified by each of our communities."
QUICK FACTS
• Ontario's manufacturing plants in Toronto, Tillsonburg, London and Windsor are expected to create up to 900 direct jobs.
• Ontario's Green Energy Act has attracted billions of dollars in private sector investments and created 31,000 jobs since 2009.
• By August 2014, the Independent Electricity System Operator is expecting more than 3,200 MW of additional renewable capacity to be connected to the grid – enough to power about 980,000 homes each year.
• Ontario is phasing out coal-fired generation, which made up less than three per cent of the province's power generation in 2012 (down from 25 per cent in 2003).
We apologize, but this video has failed to load.
Green Energy Investment Agreement amended
Back to video