Bunker to Bunker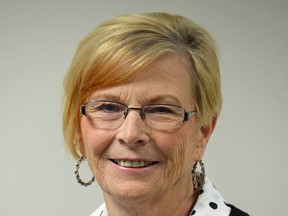 Article content
For the past six years, Betty Wilson kept readers of the Bunker to Bunker entertained and informed of activities at The Bridges of Tillsonburg. Sadly, Betty passed away this winter. Betty was a very active member at The Bridges and we will all miss her pleasant demeanor, contagious smile and wonderful sense of humor.
As your new reporter for the Bunker to Bunker, I will do my best to fill Betty's shoes.
Although spring has been reluctant to show its face this year, it's hard to keep golfers at bay for long. Whether it be a warm sunny day or a cool damp day, golfers can be found making their way onto the fairways and greens, anxious to start a new season.
Marion McLean and Devona Allin convened the 9 and 18 Hole Ladies Annual Spring Luncheon and Meeting held in the Clubhouse dining room on April 23. Forty ladies were in attendance. We enjoyed a delicious meal of broccoli soup, Asian cabbage salad with grilled teriyaki chicken, and chocolate mousse prepared by Chef Ron and his staff. At the end of the day several lucky ladies took home the centerpieces adorning the tables.
Nine hole captain Dorell Clark and 18 hole captain Phyl Lawrence presented the ladies with the proposed schedules and tournaments for the 2013 season. Signup sheets for the various activities were circulated and will be posted on the bulletin board for your perusal. May 7 is kickoff for the schedule with the 18 hole ladies teeing off at 9 a.m. and the 9 hole ladies following at approximately 9:30.
An invitation to try our Tuesday Ladies Leagues is extended to all ladies interested in golfing at The Bridges. Course membership is not required. Pay the annual league registration fee of $20 (plus $2 per week). Green fees are $20 +HST for 9 holes, or $40 +HST for 18 holes including a cart. Give our league a try… we're a congenial group and you might just like it!
Following lunch, Roy Bratty, a volunteer from GOA, spoke to us about Rules on the Golf Course. With the help of props, he provided a humorous demonstration of several situations we all find ourselves in at one time or another. Hopefully we will remember how to apply these rules in the future.
For many of us, it was our first glimpse of a newly renovated Ladies Change Room. Diane Kleer spearheaded a committee to arrange and oversee the renovations.
We would like to say thanks to the following businesses and individuals who so generously donated their expertise, time, money and materials: Ed McLaughlin of E&E McLaughlin Ltd., MCI Waste Handling, Jim Jones Carpentry, Jim and Sandy Livermore, Prouse Mechanical, Peter Ainsworth, Kevin Cassidy, John Kirkland and his staff at Carpet One, and Cedric Tomico of NuDecor. $1,200 was donated by the Wednesday Ladies League and $5,500 was donated from the The Bridges for All event fundraiser held last July.
The results are amazing and the Ladies are most grateful to Diane and her committee and to everyone who helped.
We're ready… the course is ready… the rest is up to Mother Nature.
Good golfing!
We apologize, but this video has failed to load.
Bunker to Bunker
Back to video