Massive barn fire near Jarvis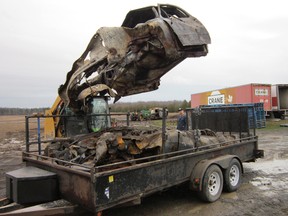 Article content
It took firefighters about an hour to bring a barn fire on Highway 3 under control Monday afternoon.
The fire occurred on a farm owned by Bill Heeg immediately west of the Sunripe greenhouse operation near Keith Richardson Parkway.
While no damage estimates are available, Haldimand Deputy Fire Chief Rodger Hill said there is "not a high value of loss."
The barn was used mainly to store scrap items. There were 10-12 scrap vehicles that were damaged.
Cause is being attributed to a small grass fire that spread to one of the scrap vehicles and then to the barn, Hill said. The property owner had attempted to put out the fire with a fire extinguisher.
The first concern of firefighters arriving on the scene was exposure of a house and storage shed on the property, Hill said. Neither was damaged in the blaze.
The black smoke that filled the sky was due to tires stored at the rear of the barn.
Firefighters from Jarvis and Hagersville stations responded along with tankers from Fisherville and Selkirk. Four tankers in total were at the scene.
There were no injuries.
We apologize, but this video has failed to load.
Massive barn fire near Jarvis
Back to video