Yes to yoga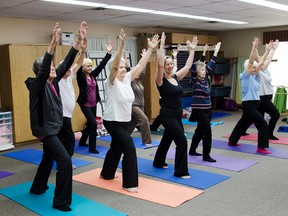 Article content
By Bethanie Wood
Student Placement The Tillsonburg News
Ninety-one-year-old Myrtle Hodgins keeps active at the Tillsonburg Senior Centre through instructor Mary Jane Fardella's yoga class. Hodgins started practising yoga about 30 years ago and enjoys meeting Tuesday afternoons at the community centre with its yoga group.
"She (Fardella) is very patient with us," said Hodgins.
Yoga is not only a physical activity, it involves a mental focus on breathing and concentration to 'keep the mind silent,' which can be a challenge.
Hodgins' favourite pose is the 'cat cow' and she encourages anyone to give yoga a try because of benefits she has found including relaxation, improved sleep and flexibility.
Fardella has been teaching yoga for 15 years and firmly believes it's an activity for both young and older practitioners.
"Any age can do yoga," says Fardella. "It's very supple."
The class uses blocks and belts to help with different poses. It is geared to physical ability and some students also choose to practice from a seated position.
We apologize, but this video has failed to load.
Yes to yoga
Back to video