Side order of revenge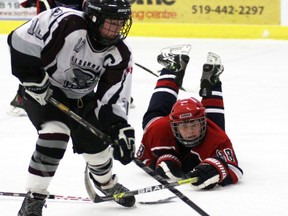 Article content
Lucas Deutsch served up a main dish of overtime game-winner with a side order of revenge.
"It's kind of like, settle the score," said the Tillsonburg Dyco Tool Oldtimer Peewee captain last Sunday morning at the Brant Sports Complex just outside Paris following a SCMHA A Division Final 4-3 overtime victory over Glanbrook.
Deutsch's scoring play came exactly three minutes into an extra 10-minute frame and was the product of an age-old hockey adage: go to the net and good things, or in this case, great things will happen. Having won the faceoff inside the right-wing circle, Deutsch did just that, positioning himself at the edge of the blue ice near the right post.
"It was mostly win it back to the 'D', get a shot on net and look for rebounds," he explained.
Deutsch did manage to get the puck to Remi DeJaegher at the point, but his initial shot was deflected into the corner, said Deutsch. From there, Owen Dew was credited with a second assist as Carson Lessif eventually shot the puck on net. Glanbrook's goalie made the initial save, but the puck dropped to the ice beside his right pad, teed up nicely for Deutsch to slam it home.
"I really don't know," he said. "Just saw the puck, put it in the net and I was happy."
'Happy' was clearly an understatement for a Tillsonburg team whose recent history with Glanbrook prominently featured a spring, 2013 OMHA BB elimination on a goal scored with 40 seconds left in game five.
"They're a strong team, have a couple of big, fast forwards," credited Dyco Tool Oldtimer peewee defenceman Austin McCrossin, who despite the challenge, was pleased to be facing Glanbrook in the SCMHA championship game.
"I was excited, I knew we were going to have to work for it and they would give us a run for the money, but I knew we could beat them."
Tillsonburg had proven that with a 3-2 victory in SCMHA A Division round-robin play, but trailed 1-0 after Sunday's first period as Glanbrook's Jacob Edwards opened scoring with 3:24 left in the frame.
Deutsch squared accounts at the 2:08 mark of the second with help from Lessif and Shane Brazier, and the Dyco Oldtimer peewees came out of the period up 2-1 after Dew found the back of the net from Riley Balazs with 2:30 remaining.
The third period opened with a steady parade of Tillsonburg players to the penalty box however, four consecutive infractions capped by a two-minute bench minor.
Glanbrook capitalized twice during extended five-on-three advantages. Devon Connor tied the game at two with 13:09 remaining and Brett Barber lifted the Rangers into a 3-2 lead with 10:26 left on the clock.
What went around early in the period, came around through its final seven minutes. Griffin Sinden netted the equalizer from Lessif and Dew with 4:51 remaining in regulation time after back-to-back minor penalties to Glanbrook gave Tillsonburg a five-on-three manpower advantage.
The 3-3 lead lived as the final seconds ticked off the clock, setting up a sudden victory situation in a rivalry too close to call.
"We've been equal with them all year," said Tillsonburg goalie Colin Nesplic, admitting to more than a shade of nervousness entering the extra period. "At the overtime, I was."
"Overtime is butterflies in your stomach," agreed McCrossin.
The Dyco Tool Oldtimer peewee players were not the only ones happy to gain a measure of revenge for their OMHA BB loss.
"It felt like we deserved to win that series, so it was nice to get a little payback," said Tillsonburg coach Mark Brazier.
Brazier pointed out Sunday's win not only locked up the SCMHA title, it also gave Tillsonburg a 4-3 advantage in their seven-game seasonal series.
"Happy – the kids earned it," he summed up, noting the Dyco Oldtimer peewees' challenges Sunday included a disallowed goal. "And lots of penalties," he continued. "They never gave up, kept fighting and fighting.
"It's a nice way to end the year."
We apologize, but this video has failed to load.
Side order of revenge
Back to video