Novices complete triple crown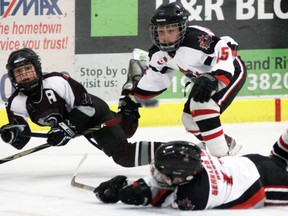 Article content
Silver Stick. OMHA. SCMHA.
Is there a favourite among the trio?
As the debate raged gently on amongst her teammates and the Tillsonburg Ward's Automotive Novices coaching staff, Mallory Collins cut to the chase.
"I like them all."
"It's awesome to have all three," agreed coach Trevor Lamb with a smile early last Sunday afternoon at the Brant Sports Complex outside Paris, where his squad had just completed a minor hockey triple crown with a 7-3 SCMHA A Division Championship victory over a game Ingersoll squad.
Each title has its merit, and Lamb emphasized each path to each unique championship had come with distinct challenges and rewards.
"It just makes it that much more enjoyable."
Sunday's final was essentially decided through a four-goal Tillsonburg second period. Beau Jelsma scored what would stand as the game-winner, unassisted just 44 seconds in, breaking a 2-2 tie. Hayden McLean and Ward's novices captain Brandon Balazs extended the lead on arguably the prettiest goal of the contest, and potentially the day, a nifty two-way passing play in which they shared the puck – and the subsequent post-game interview.
"We just passed it back and forth," said Balazs.
"He had it, then I had it," said McLean.
"Then I had it," Balazs continued.
"And slowly passed it to me," said McLean.
"And then he shot and scored," Balazs concluded.
By the time McLean pulled the trigger, he was at a relatively sharp angle, but still managed to find the back of the net with 6:20 to play in the frame.
"That was lucky," Balazs admitted.
Nolan McCrossin (from McLean) broke the game open further with 4:15 to play on a wrist shot from the right point that eluded a screened Ingersoll goalie, who was replaced following this goal. Owen Harris capped the decisive four-goal run, backhanding a Jelsma rebound home inside the left post from point-blank range with 2:19 left in the frame.
MacPherson got one back in the period's final minute, and to their credit, Ingersoll's players battled to the final buzzer. Tillsonburg goalie Tyler Bouck (he and Tristin Zeller shared netminding duties through the final) was forced to preserve the three-goal bulge with quality saves with 6:07 and 5:07 remaining in regulation time, before Harris's second, from Jelsma and Devin Hawley, made things semi-official with 3:04 left on the clock.
Tillsonburg and Ingersoll – a team which also won its division of OMHA and the International Silver Stick Tournament - have met '11 or 12 times' this year said Lamb, and Sunday's game followed a blueprint established in all but one of those contests, in that Ingersoll opened scoring, before Tillsonburg battled back.
"It's not our gameplan per se, but it seems to work for us," Lamb smiled.
Sunday, Ingersoll's Davin Gray connected just 18 seconds into the contest, with help from Alex Schuett and Ethan MacPherson. Tillsonburg captain Brandon Balazs replied just 18 seconds after that, assisted by Michel Laundrie. The teams traded goals through the balance of the first: MacPherson from Gray and Schuett just past the midpoint; and Hayden McLean from Balazs with 2:49 remaining.
"They're a pretty even team," credited Collins. "We just played with our heart and determination - that's how we beat them."
"A good way to finish it up," added Jelsma.
The Ward's Automotive novices wanted bigger challenges all year, said Lamb, and proved equal to each put before them. He thoroughly enjoyed being part of a 'good start,' for a special group of young players, and hopes to be able to 'keep 'er going,' through future bench involvement.
Lamb may indeed have a personal favourite between Silver Stick, OMHA and SCMHA, but rather than picking any particular jewel in his team's triple crown Sunday, seemed caught up in the culmination of a significantly successful season.
"You know what?" he concluded. "What's best is just seeing the smiles on their faces – and knowing how hard they worked all year to achieve what they have done."
We apologize, but this video has failed to load.
Novices complete triple crown
Back to video