Distracted driving blitz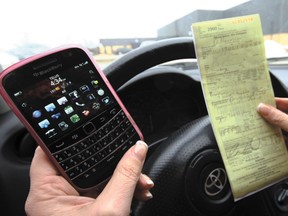 Article content
Oxford County OPP officers have joined a provincial effort in gearing up for an annual Distracted Driving Campaign this week (April15-22).
Distracted Driving is one of the 'Big 4' high-risk driving behaviours which can lead to motor vehicle collisions. The OPP responds with a combination of enforcement and education, with this week targeted for heightened effort in both.
An OPP press release includes the reminder that while texting is among the most dangerous activities to carry out while driving, distracted driving refers to all forms of distracted or inattentive driving, such as talking on the phone, eating and drinking, personal grooming and tending to children in the backseat. During this week's campaign, officers will be targeting these and any other forms of distraction they observe as impairing a motorist's driving ability.
"Drivers need to remember that the real danger to the motoring public lies in the distraction, not the device," said Chief Superintendent Don Bell, Commander of the OPP Highway Safety Division, in the press release. "In 2012, 83 people were killed in motor vehicle collisions within OPP jurisdiction in which distracted driving was a causal factor and that surpassed our impaired driving fatalities in 2012."
OPP officers laid close to 16,000 distracted driving charges across the province last year.
"While the OPP is firmly committed to enforcing distracted driving laws during the campaign and throughout the year, drivers themselves can end these needless deaths by recognizing how they contribute to risks on our roads," said Deputy Commissioner Larry Beechey, Provincial Commander, Traffic Safety and Operational Support, via the press release. "Motorists need to realize that they may need to change their own driving behaviour to improve road safety for everyone."
We apologize, but this video has failed to load.
Distracted driving blitz
Back to video