Fire destroys guest house at Rob Blake property near Port Dover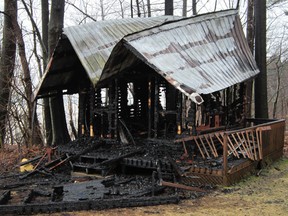 Article content
When Rob Blake played in the NHL, the only Lightning he had to worry about came from Tampa Bay.
That changed Tuesday night when a lightning bolt destroyed a guest house at his property on 506 Radical Road west of Port Dover.
Dale Hunt, who lives in a home on the Blake estate, called in the alarm shortly after 9 p.m.
Hunt reports that lightning jolted the property around 9:10 p.m. The strike was so close that Hunt was tempted to go outside and see if there was any damage. The storm, however, was so intense that she stayed inside.
A few minutes later, Hunt went to a window on the west side of her home and saw an intense glow coming from the direction of Blake's house. Hunt thought Blake's home was on fire when, in fact, a small guest house on the other side of it was engulfed in flame.
"It was one of the worst strikes we've had around here," Hunt said. "I had visions of Rob's house going up, and then my house, so I was screaming at the woman on 911. You could say that my adrenalin was pumping."
Hunt spoke to Blake about the situation by phone. An executive with the NHL's head office, Blake is currently in California.
The guest house is surrounded by several tall pine trees. Evidence at the scene suggests the lighting bolt careened off one of the trees midway up before striking the wooden structure.
Lightning is also suspected in a fire Tuesday that destroyed an old hip-roofed barn and two outbuildings on Highway 3 west of Cayuga.
Haldimand Deputy Fire Chief Rick Smith said the alarm was called in 20 minutes after the fire at the Blake residence began.
"The occupant of the house heard a loud bang and then the barn was fully engulfed," Smith said. "There was also a number of calls at the same time to 911, so lightning is a possibility."
The barn was destroyed, as were some all-terrain vehicles and snowmobiles. A combine was damaged.
Livestock was not involved. No injuries were reported. Total damage was pegged at $250,000.
During his 20-year career in the National Hockey League, Blake won a Stanley Cup with the Colorado Avalanche, a Norris Trophy as the league's best defenceman and a gold medal for Canada in the 2002 Winter Olympics.
Monte Sonnenberg
519-426-3528 ext. 150
We apologize, but this video has failed to load.
Fire destroys guest house at Rob Blake property near Port Dover
Back to video