Novices on pace for 'Triple Crown'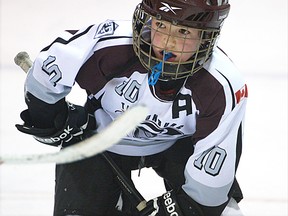 Article content
Tillsonburg Ward's Automotive novices will join three other TMHI teams in Paris Sunday at the Southern Counties Minor Hockey A Championship Finals.
The Tillsonburg Dyco Tool Oldtimer peewees begin Sunday morning at 8 a.m. with a rematch against their archrival, Glanbrook, who bumped them out of OMHA BB playdowns in five games.
The Tillsonburg Underhill's Farm Supply AE peewees follow at 9:15 a.m. The Ward's Automotive novices will play the winner of Ingersoll-Glanbrook at 11:30 a.m., and at 2:30 p.m. the Oxford Source for Sports bantams will also vie for an A championship.
Two more TMHI teams are playing in the Southern Counties B Finals in Norwich Saturday. The Horizon Seeds atoms are on the ice at 9:45 a.m. and the Hutchison Insurance AE atoms at 11 a.m.
The Tillsonburg novices, winners of the 2013 North American International Silver Stick A championship and the OMHA BB Novice West championship, reached the league's A final with a 5-2 win against Burford Wednesday night at the Colin Campbell Community Arena.
Neither team scored in a relatively cautious first period.
"It's been like that all year," said Ward's Automotive coach Trevor Lamb. "It seems to be our game plan. Feel the other team out the first few shifts… the first period.
"You sort of get used to it," he smiled.
The Novice Tornadoes had not played since the OMHA finals, March 24, and being a little rusty contributed to a slow start, he added.
Elijah Newson and Brandon Homick scored three minutes apart in the second period to give Tillsonburg a 2-1 lead.
"Once we got our legs under us, we seemed to get a little more energy going. We started passing the puck a little bit better. We want to have control of the puck, so once we got our legs going it sort of cleared our heads on what we needed to do – with and without the puck.
"In the first little bit, we were sort of standing back and watched them play. It all comes down to getting your legs going, getting into the game. It could be a nice pass or a good shot – it gets you energized. Then you get into the play a little better and you start playing our game plan.
"We got on them a little bit more, and once we have one player attacking the puck, everybody else does it. You feed off each other, as good teams do."
Liam Hicks and Hayden McLean made it 4-1 in the first 1:12 of the third period, scoring just six seconds apart.
Trailing 4-2, Burford called a timeout with 1:16 left to play. Tillsonburg iced the win when captain Brandon Balazs fired a wrist shot from just inside the Burford blueline on the right wing. The shot was blocked by a Burford defender in the crease and the rebound landed on the stick of Owen Harris, who buried it to make it 5-2.
"Our goalies played really good tonight, for not having played in a bit," said Lamb. "Good concentration on the puck. Made some big saves when we needed them. I think Tyler (Bouck) gave the team some energy early on when he made some good saves. Late in the game Tristin (Zeller) made some good saves to keep us in it."
Burford, playing in the 2012-13 season in the SCMHA East Division, did not see Tillsonburg until playoffs. Their only match before Wednesday's semifinal was a 3-3 tie on Feb. 25. Like Ingersoll and Tillsonburg, Burford won its OMHA playdown division.
Ingersoll, the odds-on favourite to be Tillsonburg's opponent in the A Final, is a familiar rival.
"They're more of an all-around team (than Burford and Glanbrook)," said Lamb, noting Ingersoll's best players are forwards, whereas Burford's strongest players were defencemen.
"We always have great games against Ingersoll. I think we're pretty even. Without looking at the scores, I think we've lost to them a couple times, tied a couple, and beat them. Should make for an interesting final."
Tillsonburg Ward's Automotive 5, Burford 2
Ward's Automotive scoring: 1. Elijah Newson (Liam Hicks, Beau Jelsma); 2. Brandon Homick (Beau Jelsma); 3. Liam Hicks (Elijah Newson); 4. Hayden McLean; 5. Owen Harris (Brandon Balazs).
We apologize, but this video has failed to load.
Novices on pace for 'Triple Crown'
Back to video