AE Atoms shoot into B Final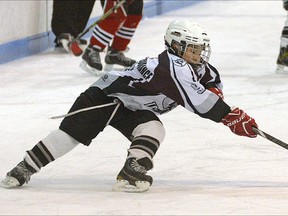 Article content
Five weeks ago, on February 26, Tillsonburg Hutchison Insurance AE atoms tied Six Nations 3-3.
It was a hockey game the Tornadoes badly wanted to win, a game that would knock them out of contention for the Southern Counties A championship and drop them into the B playoff picture.
On Saturday, March 30, at the Kinsmen Memorial Arena, the Hutchison Insurance AEs moved a step closer to the league finals beating Six Nations 9-0 in a Southern Counties B semifinal.
"Today, we were just on," said Hutchison Insurance AE coach Jeff Holman. "Everything was working. We've been looking for it all year and we hadn't found it, and all of a sudden… we found it! And we're almost done. It's been a great year, it's a great group of kids. They've been playing well together.
"We've been working so much on our passing, team unity and team play, and getting our scoring up."
The hard work paid off. The Tornadoes got some payback last Saturday, and booked their 'tickets' for the B Final against Ayr, winners against Caledonia in the other semi, tomorrow (Saturday) morning in Norwich.
The Hutchison Insurance AEs have a golden jersey tradition after games. But in the Six Nations game they did not have one clear-cut winner. Everyone was recognized.
"The whole team," said Tillsonburg centreman Juliusz Kowalski, who scored twice in the second period.
"We don't really have a superstar," said Holman. "We have lots of kids who are all equal right across the board."
Kowalski's second goal gave the Tornadoes a 5-0 lead.
"Juliusz has been working hard all year," said Holman. "He's been learning how to handle the puck and shoot the puck and he's a big, big part of our team. He helps get the team going – he's our 'fast guy.' He plays well with his teammates, always makes sure he's passing."
A speedy centreman, Kowalski made a successful jump from novice local league last year to Atom AE.
"It's a bit harder," said Kowalski, comparing AE hockey to local league. "But it's fun. It's a bit annoying when you have to drive really far…"
Holman had asked Kowalski to use his quickness to play a certain role on the ice.
"A pest," Kowalski smiled.
"Wherever the puck is, that's where Juliusz has to be," said Holman. "That's where my centreman is supposed to be. He's got the speed and he is a pest on the puck.
"He shows up with a smile every game, and," Holman added with a smile, "so does the rest of the team."
Defenceman Liam Clarkson, one of four second-year atoms on the team, also proved they leave the rink with a smile.
"Liam's been working hard and he's been having a great year," said Holman. "He's been a strong stay-at-home defenceman for our team. Very solid. He's also been working on getting that hard shot from the point – the boomers – and he got our first goal today."
Clarkson's goal turned out to be the game-winner.
"Wrist shot, five hole. Stevie (Lee) screened it," said Clarkson, who agreed there was a lot of motivation for the Tornadoes.
"We missed the Top 4 because of them. We missed it by one point, that one tie."
"There's a lot of parity in the Atom AE division," Holman noted. "From No. 1 down to No. 7 the teams are pretty equal. Everybody's beat everybody, everybody's lost to everybody."
He cited Ayr as a good example. Tillsonburg handily won their last encounter, but Ayr walked away with the match before that.
"Ayr? They're okay," Kowalski shrugged.
Clarkson was confident the Tornadoes could repeat Saturday's on-ice effort, and maybe even play better in the B Final.
"Probably better," Clarkson nodded.
"He doesn't want to jinx us," Holman laughed. "This man is soooo superstitious…"
"Like my tape," said Clarkson, holding up his two sticks, one of them wrapped in red. "It was the closest they had to maroon in the store. But it rips too easy."
Southern Counties B Semifinals
Tillsonburg Hutchison Insurance 9, Six Nations 0
Hutchison Insurance scoring: 1. Liam Clarkson; 2. Connor Roberts (Ethan Scanlan); 3. Steve Lee; 4. Juliusz Kowalski; 5. Juliusz Kowalski; 6. Nathan Holman (Jack Main); 7. Ethan Scanlan (Connor Roberts); 8. Steve Lee; 9. Jack Main (Steve Lee, Nathan Holman).
We apologize, but this video has failed to load.
AE Atoms shoot into B Final
Back to video