Temporary library open for business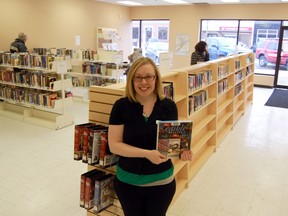 Article content
The temporary library in Tillsonburg, located at 164 Broadway, Unit #6 is now open for business.
The location was up and running last Wednesday and was created to allow residents continued access and use of library materials, books and resources while extensive renovations are done on the existing library building, now operated as part of the Oxford County Library system.
"January 2 was the first day that we were open," said Sydnie Lane, branch supervisor for the Oxford Country Library. "We've been really busy with registering people for cards for the Oxford County system, explaining how the transition has been working and how to use our system as well," she said.
While the move across the street is just temporary, library staff are doing their best to accommodate the needs of its patrons and provide them with the best books, resources and materials available.
"We do have a somewhat limited browsing selection for books, but we are getting books continuously – pretty much everyday there's a delivery of new materials," said Lane. "We do have books, DVD's, books on CD and audio books. We also have a nice little kids area called the kids zone, and we've also got four public internet stations that are available for use by library users. We do have some tables for meeting spaces or study areas if anyone needs those right now too," she added.
The current location is next to the Rogers plus store and is still considered to be as central and convenient for many Tillsonburg residents and library patrons alike.
"We have the same hours as the other location, so we aren't going to be cutting back on anything – Monday through Thursday we are open 9:30 a.m. until 8:30 p.m., Friday is 9:30 a.m. to 5 p.m. and Saturday is 9:30 a.m. to 5 p.m," she said. "Near the area for newspapers and magazines, we'll have some soft seating available so there will be some comfortable areas to read books and magazines as well."
People using the temporary library have found the setting a bit different, they have welcomed the efforts by staff at the Oxford County Library to meet their needs and assist them with the transition to the new system.
"People are surprised about the space itself because it is very different," said Lane. "It's more of a retail format than a library format at the moment, but people are also pleasantly surprised that the amount of resources that they're able to get here because we are able to bring in items from all of the other branches."
And although the shelves at the temporary location may be a little bare for the time being, Lane assures patrons that they will soon be stocked with new books and other materials.
"There is a plethora of items that are available – what you see is not what you get in this case. You get much more," she said noting that much of the newer material will be transferred back to the former library location, once the extensive renovations are complete.
"We were waiting for some new shelving, which we got at the end of last week so we will definitely be filling up the shelves with materials."
The temporary library is located at 164 Broadway, Unit #6. Renovations on the current building are expected to continue until late spring or early summer.
We apologize, but this video has failed to load.
Temporary library open for business
Back to video