Salvation Army suffers $10,000 shortfall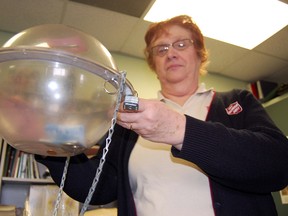 Article content
Another Christmas season for the Tillsonburg Salvation Army is over for another year, but the kindness and Christmas cheer shown through its various holiday events and campaigns, will no doubt be felt in the community over the next several months.
As anticipated, the annual Christmas day tradition, the Feast of Friends grew this year and was deemed a heart-warming success.
"We sat for 120 but we had 140 people come out," said Donna Acre, community ministries coordinator with the Salvation Army in Tillsonburg. "So there were actually people giving up their seat and letting other people sit down – it was packed but it was fantastic."
Chef's Ryan McLean and Tracey Winkworth were on hand to help feed a delicious meal to the 140 guests who had gathered at the Salvation Army church on Concession street on Christmas day.
"We had enough turkey – 78 pounds of turkey to feed everyone," said Acre. "It's like we are the hands of God, helping people and they can see that. They know that somebody out there cares for them – that's the true spirit of Christmas."
Acre noted that with the increase in numbers this year, came an increase in new faces, many who were enjoying the Feast of Friends Christmas day dinner for the first time.
"There were more seniors – you can have a lot of money and still be alone, so we welcomed everyone," she added noting a possible reason for the increase in the number of seniors this year. "We definitely noticed an increase even from those 50 years and up, because they are too young for old age pension but they don't have a job and nobody is hiring them," explained Acre. "So that age group is a really bad age group to be in – they have it tough."
And times indeed appear difficult for everyone right now.
Each year the Salvation Army in Tillsonburg relies upon its annual Christmas Kettle Campaign to help raise funds for local needy families and individuals. Several thousands dollars are typically required to assist Tillsonburg residents throughout the entire year, however, this Christmas season even the Salvation Army felt the pinch that many are experiencing during difficult financial times across the country and around the world.
"We were down about $7,000 dollars - that's our big campaign for the entire year," said Acre noting the impact such a decrease in funds might have this year in 2013. "I can see it putting a strain on my programming – what we do to help people. We're down about $10,000 dollars in total (including kettle campaign funds and mail-in donations)."
This year, the Christmas Kettle Campaign raised approximately $39,000, down from $46,000 last year in Tillsonburg. While the mail-in donations were down about $2,500 from $70,000 to approximately $67, 500.
That decrease said Acre is a reflection of the financial burden felt by many Tillsonburg families and individuals, as a result of a struggling economy – both national and global, continuing layoffs, high unemployment and cutbacks in almost every sector, every province and in every line of work right across Canada.
"Most people are one step away from being there themselves – just one paycheque away," she said.
Despite the decrease this Christmas, Acre and the entire staff with the Tillsonburg Salvation Army are grateful for continued support and assistance shown by many individuals, partnering organizations, such as the Knights of Columbus and the countless volunteers throughout the year.
"We got lots of toys, lots of food and the coats for kids program went really well – we hardly have any coats left," said Acre. "The support from the community and surrounding area was phenomenal, it always is. It was a great example of community helping its community."
We apologize, but this video has failed to load.
Salvation Army suffers $10,000 shortfall
Back to video