Two Cents Worth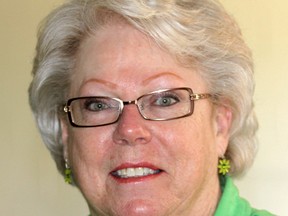 Article content
We all need to be acknowledged for our accomplishments!
It's all well and good to say all we want is the feeling of satisfaction, the pride in our own achievements. That may be important but we all know we want others to notice, too.
You can spend all day cleaning and derive a certain amount of gratification in the sparkling floors, gleaming furniture and glistening windows. But it is when someone else comes home that we expect recognition; that is when we get our reward. Nothing takes the shines off as much as hearing, "What's for supper?" or "So, what did you do today?"
We all know what it feels like to reach a goal, be it a big one or an insignificant one. It feels good and doesn't matter what the goal is, achieving it is of consequence. Losing a few pounds, getting a dream job, taking a special holiday, getting the yard done before the snow flies, doing up the dishes, painting the bathroom, finishing that project, reading a book, getting supper ready, making it to practice on time – what it is, is not the key aspect, it's the completion of it that gives that sense of pride and joy. But our payoff comes from someone else recognizing our achievement.
Sometimes we only need to give the appearance of accomplishment.
I think doing laundry gives that, silly as that may sound. You know what I mean 'cause we all do it.' Sitting at the arena, or anywhere else, we discuss the laundry that needs doing, how we threw in a load at 5:30 a.m., managed to fold a load before racing off to the game and getting home to do some more. We discuss how to make the whites whiter, stop fading, brighten colours, get wrinkles out, make it smell nice, remove stains and on and on. We complain about getting the wearers of said clothes to put them in the hamper, pick them off the floor, take them out of the dryer, or how to get them to put the neatly folded piles away without disturbing our hard work. It's an ongoing conversation.
Now we all know laundry isn't a hard job. You can get a huge payoff with very little effort. It's not even that time consuming when you think about it.
When you are feeling less than inspired, wanting to only sit and watch mindless TV or are mildly suffering some ailment you can use as an excuse to do as little as possible, just throw in a load of laundry, watch that TV show for an hour, take 10 minutes to hang clothes all over the house or out on the line, throw in another load, pour a drink, make a sandwich and catch a rerun of Criminal Minds, Say Yes To The Dress or Murdock Mystery. You can do this three times in one day and have the whole house fully and obviously draped.
I have old tension shower curtain rods across the back hall and a hook over the basement stairs. It's amazing how many hangers of shirts, blouses, T-shirts they hold. At the dollar store you can find these hangers with 10 arms filled with clothes pins which are perfect for underwear and socks.
Nothing says achievement like clothes hung all over the house. No one can miss all you have done when they have to duck to get to the back door or down to the basement. They think you have been slaving all day to have made such a sizeable showing of accomplishment.
The next day many piles of folded clothes waiting to be taken to bedrooms line the stair steps or chairs and is again a reminder of all you do.
twocentsworth40@hotmail.com
We apologize, but this video has failed to load.
Two Cents Worth
Back to video