Rotary promotes literacy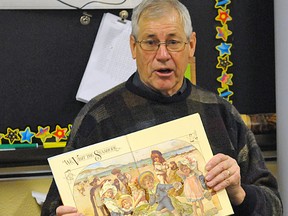 Article content
Books can open doors to new worlds.
Grade 3 students at South Ridge Public School got a glimpse of some of those 'worlds' Tuesday morning in a collection of books introduced by Tillsonburg Rotarian and retired high school teacher Jim Donaldson.
"It's part of the Rotary Club's Grade 3 Literacy Program," said Donaldson. "The Rotary Club gives every Grade 3 student in Oxford County a free dictionary. Our club covers the Tillsonburg area, and we've also expanded it into Port Burwell and Straffordville now as well.
"I give them a little presentation of books to get them excited about reading. That's the idea. They are at the age when everything's interesting, it's exciting, their heads are up and you can see the sparkle in their eyes. We want to try to promote that – promote literacy – to people who like to read, especially in an age of computers and games. There's a danger that we could lose that… the love of reading. Language is the greatest give of all."
The Oxford County Rotary program is part of a nation-wide literacy promotion, part of which is distributing the free dictionaries to Grade 3 students.
"It's been quite successful. This year, our own group here in Tillsonburg will have given out about 350 dictionaries. We give them directly to the students, it's their dictionary.
"It's good for me, too, because I enjoy giving back, coming into the classrooms and talking to the kids. Like the kids down in Port Burwell – they were really gung ho. We enjoy it."
Pulling books one at a time out of his 'book box,' Donaldson took the South Ridge students on a journey through time visiting the Temple of Zeus in ancient Greece, the modern-day phenom Olivia the Pig, and an extra long table-size pop-up mummy.
"You really need to go to Paris," Donaldson told the young students. "You remember that – there are so many beautiful things to see… it's spectacular, just amazing."
And with that, he opened a book showing the Palace of Versailles, 'the Place of the Kings.'
"This book can take you there. When you look through this book, you can see it. It's like being there… and you might want to go there some day."
He saved the best for last, however. The real show-stopper – the one that drew ooohs, aaahhhs and whoooas – was a stunningly colorful pop-up Narnia.
"Look at the cut-outs in this one. The depth and detail is really just amazing."
And then it was time to introduce the brand new dictionaries, free to the students as a gift from The Rotary Club.
"We are going to give every one of you a dictionary of your own. And you're going to get a bookmark to go with it. Enjoy and use these. And enjoy your reading!"
We apologize, but this video has failed to load.
Rotary promotes literacy
Back to video