Novices building for the big ones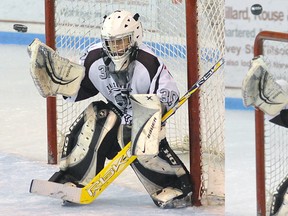 Article content
Tillsonburg Ward's Automotive Tornadoes and Ingeroll Express novices skated to a 5-5 Southern Counties Minor Hockey Association tie last Saturday afternoon in Tillsonburg.
"Slow starts seem to be our trend," said Ward's Automotive coach Trevor Lamb after the visitors took a 3-0 first-period lead.
"We find that extra gear usually by the end of the first period, and in the second and third period we turn it up some more. But we just didn't have our legs today."
Ingersoll had opened the scoring 1:02 into the first period, and added two more before Tillsonburg replied with a pair of goals late in the period. Beau Jelsma and Hayden McLean scored 33 seconds apart in the final minute, with McLean's goal coming in the final second.
Ingersoll's regained its two-goal cushion with the only goal of the second period.
The Tornadoes won the third with three goals, coming from behind to earn the 5-5 tie. Ingersoll's Tye Howse scored his second of the day with 10:38 left to play, but goals by McLean, and then Jelsma with 5:03 remaining, knotted it.
"We can't expect them to be perfect every time," smiled Lamb, "and tonight, obviously, we just didn't have our legs. We're still happy with the effort that was there.
"Usually the momentum carries us for a while, but it didn't today. The momentum was really up and down. We had some good shifts and not-so-good shifts. Usually we try to get one good shift leading into another good shift and we build on that. It helps when they see someone else having a good shift. But today, it just wasn't as consistent as it's been all year. It's a long season, it's going to happen."
Saturday's SC game was the first time Ingersoll took a point from the Ward's Automotive novices.
"We beat them twice in regular season, once in exhibition, once in a tournament. That was our first tie."
The Silver Stick qualifier will be their next 'big' tournament, starting Dec. 27, in Pelham.
"That's what we're building toward, Silver Stick and OMHAs.
"The kids work hard in our practices and it shows in our games. We're happy with where we're at."
Tillsonburg 5, Ingersoll 5
Ward's Automotive scoring: 1. Beau Jelsma (Brandon Homick, Hayden McLean); 2. Hayden McLean; 3. Mallory Collins (Beau Jelsma); 4. Hayden McLean (Liam Hicks); 5. Beau Jelsma.
We apologize, but this video has failed to load.
Novices building for the big ones
Back to video