Junior Bears sweep Waterford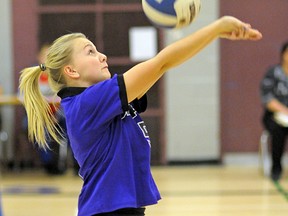 Article content
Valley Heights Bears junior girls opened its 2012 NSSAA volleyball season Thursday afternoon with a 3-0 sweep of Waterford.
The junior Bears won the best-of-five 25-11, 25-7, 25-9 in the Valley Heights gymnasium.
"I think we did pretty good," said Bears' captain Kristen Fros. "We were pretty nervous at the beginning though. But the other two games we played better."
The Bears had two pre-season exhibition tournaments, reaching the finals of a Simcoe Holy Trinity tournament and the semifinals in Paris (losing to Assumption).
Facing strong competition in the tournaments, and a couple teams loaded with club players, the Bears came closer to playing to their full potential.
"Some good competition," Fros nodded.
The Ontario Secondary School Teachers' Federation announced on Monday, Dec. 3 that its members are withdrawing from extracurricular activities on Monday, Dec. 10. That means high school sports will be 'put on pause' as of Monday.
The junior Bears knew that would be a potential scenario, but hoped it could be avoided. It was, however, a factor in pre-season preparations, said Fros, and could be a factor if/when they return.
"I think everyone wasn't as focused on improving. It seemed like everyone was just trying to have fun in practice because we knew it was ending soon. Everyone was just having a good time."
"Everyone's already kind of in the volleyball mood right now, but coming back after Christmas, I don't know, everyone might be feeling lazy and feeling like the season is over. So I think it will be difficult to try to get back at it. But I think everyone would be excited about it."
Fros, 15, still plays OVA club volleyball. Her Brantford Tornadoes U16 season started in September with tournaments beginning in November, and it runs until May.
"There's a few girls from HT (Holy Trinity) also on the team."
We apologize, but this video has failed to load.
Junior Bears sweep Waterford
Back to video