Project Ripple moving forward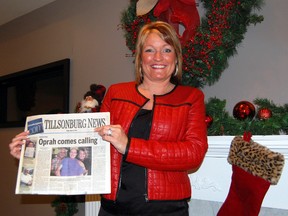 Article content
Over the past several months, the Tillsonburg community, local organizations, businesses and individuals have come together to help get Project Ripple off the ground.
However, project founder Cheryl-Ann Lovie said things may have progressed too fast, too much and now, there is a need to slow down and take a step back.
"As we stand right now, we are re-structuring Project Ripple in order to have an appropriate board of directors, legal entity, accounting firm and charitable organization status set up so we can move forward properly," said Lovie.
"We have decided to take more control and take the reigns of Project Ripple, as opposed to how we initially started."
The project was created last spring, inspired by Tillsonburg residents Denis and Alrae Turcotte and by the fall, without exact organization and details in place, concerns and questions about Project Ripple and its integrity were being raised from members of the community. Included in that are concerns over charitable (donation) receipts that some residents may not have received yet - Lovie wants people to know that Project Ripple is working very hard to ensure receipts are given out as soon as possible and furthermore, wants to put such concerns and possible rumours, to rest.
"I've never done anything like this before, this is brand new to me. I've done everything from my heart and not necessarily knowing how a charitable organization is set up – we just went full steam ahead collecting money."
The non-profit organization has collected approximately $12,000 over the last few months from local groups, businesses and individuals, including some donations that were given directly to the Turcottes instead of the Project Ripple account.
Lovie shared some timely and relevant advice given to her from a past Grand Knight in Tillsonburg.
"I think it is very important at this point to re-structure and make sure you have the proper criteria in place based on contracts for the recipients, legal advice so that we can be properly represented if anything were to come up and establish a charitable organization number and status to make sure that we have all of our 'i''s dotted and 't''s crossed," she said.
Over the past few months changes and progress made include the purchase of a modified wheelchair for Denis Turcotte, with funds raised in recent months, at cost of $2,637 and the establishment of a board of directors for Project Ripple last summer.
In addition, the Turcottes have decided to stay in their own home rather than build a brand new one, as was planned when the project first got underway.
"We can appreciate that," said Lovie. "They've lived there their whole lives, created memories there and this is the home they would like to live in. Based on that, they would like to do a renovation - the renovation has come in with an estimate of $77,000, which is a lot cheaper than a new build and it also allows them to stay in their own home. So this has been a great decision for both the Turcottes and the project."
Lovie pointed out they have chosen to release all funds collected for Project Ripple thus far to the Turcotte's – a remaining amount of approximately $9,500 to be put towards the home renovations next spring.
And for the time being Project Ripple has decided to put all donations on hold, until the non-profit organization can re-establish itself.
"We are stopping the donations as of right now so that we will be able to take donations in a better and more organized manner – so that we're going to be able to thank people and recognize people properly," she said. "And we're going to be able to handle charitable receipts ourselves. We should be up and running within a year."
Despite the questions and uncertainty about Project Ripple in recent months, there have been local organizations and service clubs that have stepped up to show their support.
"The Catholic Women's League is coming by and making regular visits to both Alrae and Denis and that has been huge," said Lovie.
"It's been wonderful and I do believe that the Knights of Columbus have been so supportive throughout the whole process and helped us to get to this point."
Many in the Town of Tillsonburg and the City of Woodstock have helped the project in so many ways noted Lovie, from getting the word out about the project to volunteering their time.
"We have done an amazing job of that and I am not going to be discounted, nor let Project Ripple be discounted, because of rumours or things that have happened out there," she added.
"We are going to continue to fight for the rights of people that need help and we're going to help a lot of people – not just the Turcottes, although there's still lots of help they require, and we're still onboard to help them in the way of volunteers, as opposed to direct donations at this point," said Lovie.
"I still believe very strongly that we can do it and make this happen."
We apologize, but this video has failed to load.
Project Ripple moving forward
Back to video