OPVG bursary opens doors for education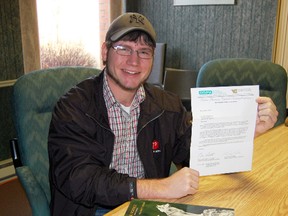 Article content
An area student is furthering his education with help from a province wide agricultural organization.
Vienna native, Mike Vereecken was one of four students from across Ontario chosen to receive a $2,000 bursary from the Ontario Processing Vegetable Growers association his fall.
The 23 year-old student is finishing his last semester at Fanshawe College in London where he is currently enrolled in the 3-year Environmental Technology program.
"I was ecstatic to receive it – I got a phone call from my father telling me I received a letter in the mail. The next day I opened it up and to my surprise there was a letter congratulating me," said Vereecken. "I'm hoping to use my college education as a stepping stone to get into Guelph University. I intend to, with the articulating agreement with Guelph, knock two years off of a 4-year degree in Environmental Science with a minor in Agriculture."
Every year at the Ontario Processing Vegetable Industry Conference, a silent auction is held to help raise funds for industry bursaries that are awarded to students like Vereecken, who are enrolled in agriculture, related studies.
The Ontario Processing Vegetable Growers (OPVG) is a non-profit organization for producers of tomatoes, green peas, sweet corn, wax beans, cucumbers, beets, carrots, cabbage, cauliflower, lima beans, peppers. pumpkin and squash for the canning, freezing and pickling industry.
Vereecken was one of four students selected for the bursary this year, which he applied to after learning about it from a fellow colleague with his co-op program. The application included writing an essay detailing his current program at Fanshawe College, his future goals and how his education and work experience were related to the agricultural industry, and in particular vegetables.
"I've been fortunate enough to work, through my co-ops, with the University of Guelph in Exeter and through Agriculture and AgriFoods Canada down in Delhi at the old tobacco research farm. I've done a total of 16 months of co-op work experience in agricultural research," said Vereecken, noting that some of that included working on the pesticide minor use program.
"With Ag Canada, I worked primarily on vegetables such as cucumbers and onions."
Finishing his diploma program at Fanshawe College in December, Vereecken plans to put the bursary money towards his degree at Guelph University. With the high cost of acquiring an education today, it is an opportunity that he is grateful to have.
"I'm very thankful for it and very appreciative to the Ontario Processing Vegetable Growers association. It'll aide me in pursuing my future goals and it will open a lot of doors," he added.
Agriculture is an important sector in Canada and a vital part of our economy today said Vereecken. He also noted the considerable role that organizations like the OPVG have in the province.
"I know that agriculture is a delicate process, and specifically in our region it is a large industry. With the increasing global population, it's essential – the farmer himself needs to be looked after by these boards, organizations and governments too," said Vereecken. "Organizations like the Ontario Processing Vegetable Growers really help out and keep farmers informed. That is essential in agricultural sustainability today and moving forward for the future."
We apologize, but this video has failed to load.
OPVG bursary opens doors for education
Back to video